Cheap Photo Booth Hire
The only "cheap" part is the pricetag, we maintain the highest quality photo booths with a professional & friendly service to match at affordable prices!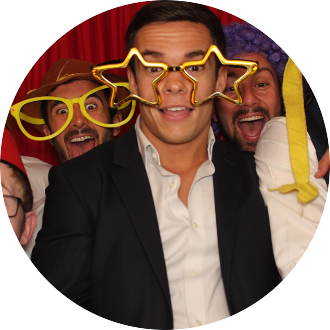 We don't cut any corners in the service we provide with every photo booth hired.
Shooting Stars
understands that every event has a budget to keep to, whether it's a charity event in
Brighton
, a 21st party at your home in
Chelmsford
, your leaver's ball or
prom
in
St Albans
, or the wedding of the century in
Richmond
.
We try to keep our photo booth prices as low as possible by offering an all inclusive service with every photo booth hired.
For starters we provide a 3 hour run time service as standard.
This means you get exactly that, there is no additional charge or time taken off if for what ever reason we are delayed from starting our service at our agreed time.
When it comes to prints, we don't have a limited amount, or different options for more or less prints. Instead we keep it nice and easy by offering unlimited prints for free, this allows you & your guests to feel free to get as many pictures taken as you all wish!
If you are looking for a cheap
Selfie photo booth
for your
big day
or
corporate event
, then look no further! A guestbook is included as part of the parcel, which again comes free of charge not a pricey add on!
You don't need to buy or hire props separately either. We bring a box full of them! All the wigs, oversized glasses, face mats, inflatables, masks, hats & more to ensure as much fun as possible.
Cheap Photo Booth Rental Service in London & beyond!
Shooting Stars
' affordable service includes free delivery & installation to many venues in the South East; including
London, Kent, Essex, Surrey, Sussex, Buckinghamshire, Berkshire & Hertfordshire
.
This alone makes us one of the most affordable in London, so if you are looking for a cheap photo booth or magic mirror in
London
or surrounding counties, then look no further!