Photo Booth Hire in Sussex
Why not add one of our stylish, exciting and fun photo booths to your next Sussex event, whether it's the wedding of the century or a 16th birthday party at your home!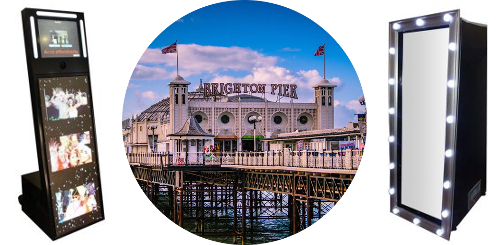 Make your next Sussex event one to remember with three of the latest must-have photo booths to choose from:
The Magic Selfie Mirror Booth
– This photo booth is our most popular and most hired in both East and West Sussex, it's upright and full length mirror design make it both sleek and stylish and being highly portable makes it suitable for any space.
Sit-in Photo Booth
- the classic oval design. This retro sit in photobooth fits upto 8 so grab your in-laws, your bridesmaids, your best friend and smile!
And lastly, our
Selfie Pods
with a large digital display screen; a top of the range in-built camera that takes the best, most flattering photos - better still gives instant prints. No waiting!
The selfie pod is the best cutting edge design and technology. Easy to use, to add to the fun the pod comes with an outrageous prop box full of wigs, hats and over sized glasses.
Affordable Photo booth Rental Service in Sussex with our free delivery & installation service!
We offer free delivery and installation to most venues in Sussex, making us one of the most affordable when it comes to hiring a photo booth for your event in either East Sussex or West Sussex. So get in touch today!