Sit-in Oval Photo Booth Hire
Take a trip down memory lane and let your guests create new memories of your event by hiring a Sit-In Photo Booth!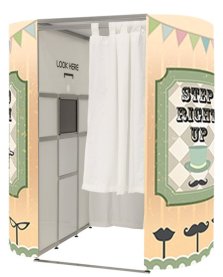 Remember when you and your mates used to go along to the local shopping centre and pile into the photo booth to get your pictures taken?
Chances are you still have the evidence tucked away somewhere!
Good times indeed, but the good times don't have to end there because you can now hire a photo booth for your next function or event!
You Just Can't Beat A Sit-In Photo Booth!
The
Shooting Stars
Sit-In Photo Booth is oval in shape and its sleek lines absolutely ooze retro glamour. Not only will it bring back memories of photo booths past, it will allow you and your guests to create, capture and print out brand new ones too.
Step inside and take as many photos as you wish. That's right, no coins required! The hire price includes unlimited strips of photos for you and your guests to take away and treasure.
We also provide a big box of party props for your guests to use should they wish. Give grandpa a wig or Clive in accounts a pair of over-sized glasses, and there is no stopping them, believe you me.
And being bang up to date in the technology department, this booth doesn't just take snaps. Oh, no. It also allows you to film short videos and upload them immediately to social media!
All Aboard The Sit-In Photo Booth!
The Sit-In Photo Booth comfortably accommodates up to six people at a time, making it perfect for family and group photos.
A friendly, experienced attendant will be on hand to assist your guests at all times so both seasoned photo booth users and technophobes will be in very good hands :)
We can even provide a guestbook for photos and messages to be left for the event organisers - something we know is a big hit at weddings and at birthday parties.
Hire This Photo Booth For Your Upcoming Event!
The
Shooting Stars
Sit-In Photo Booth is available for hire for events, large and small, throughout the South East including Buckinghamshire, Essex, East Sussex, Hertfordshire, London, Kent, Surrey and West Sussex. We have been known to go further afield too if you'll cover the additional travel expenses.
We take care of everything. We will deliver and set-up the photo booth at your venue on the required date, provide an attendant to assist your guests for the duration of the hire period, print out all the strips of photos you and your guests desire, and take the booth away again at the end. Job done!
And as the organiser, you'll also receive a USB stick or CD of all the photos taken at your event with our compliments.
For a no-obligation quote, click the button below and fill in the form with your event details. We'll then put together the perfect package for your event!